Return to Headlines
Parent/Guardian Communications
August 26, 2020: Meal Service Survey
We would like your feedback on our meal services.
We are requesting your participation in a survey regarding your family's meal service experience. This survey will provide our district with information to help us improve meal services during virtual learning.
Please complete the survey sent to you via email.
We would appreciate your feedback by Friday, September 4, 2020.
---
August 24, 2020: Technical Issue
Good Morning RSD Families,
Romoland School District uses a service called Clever to provide access to many of the instructional applications that our students use, as well as badge logins on TK-1st grade Chromebooks. This service is currently experiencing technical issues.
At this time, Google Classroom and Meet are still functioning normally for students to participate in live instruction with their teachers.
---
August 19, 2020: RCOE ECE Child Care for Essentail Workers
Effective August 2020, Riverside County Office of Education, Early Care and Education (RCOE ECE) is available to provide needed childcare services for essential workers.
For those still physically reporting to their worksite, a temporary subsidized payment to assist with the cost of childcare services for children ages 0-13 is available through September 30, 2020. Families must receive childcare outside of their home in order to qualify for the program. Payment will be made directly to the childcare provider.
Contact RCOE ECE to request services through email at cclupdates@rcoe.us or by calling (800) 442-4927. Please be sure to identify yourself as an essential worker and provide your best contact phone number and email address.
For more information visit the RCOE ECE Website here: rcoe.us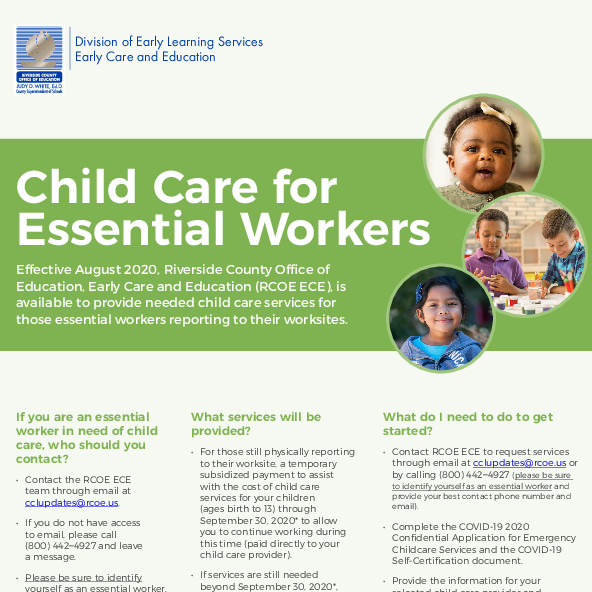 ---
August 1, 2020: Borrego Health Mobile Clinic
The Borrego Health Mobile Clinic is back on August 12th at Harvest Valley Elementary from 9am to 3:30pm!
Appointments are available for physicals, dental exams, vaccines, vision and hearing screenings and child wellness exams. No insurance is needed to be seen.
Call (760) 423-5090 to schedule your appointment today!
For more information, please view the flyer here